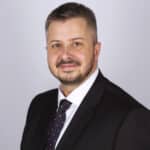 James is a Fellow of the Chartered Institute of Marketing (FCIM). He's a passionate, creative, and driven marketing and business development specialist with over 20 years' experience delivering multi-disciplined strategies.
His hands-on approach and experience in leading teams supports a proven track record of creating and managing successful sales and marketing initiatives in financial services, accounting, and legal service industries.
These include brand development, B2C and B2B lead generation and retention campaigns, targeted internal and external communications, including video, e-marketing, print, web design, PR and event management.
He has board experience and brings enthusiasm, motivation, and dedication to his role. He has a flair for communication and a history of building strong and rewarding relationships with corporate affinity partners, third party suppliers, senior management, and colleagues of all levels.
Read some testimonials.